As winter comes to an end, its a great time to take up some new crafts or hobbies! Crafting is not only fun, but it is great for mental wellness. Many people find crafting to be freeing and relaxing. Whether you are looking for something new to take on yourself or a fun activity to do with a friend, we have some fun craft projects for you to try!
1.) Dot Art Painting Crafts
Dot art painting involves the use of various tools to create designs using different size and color dots. The design possibilities are endless and you can use a variety of mediums to paint on. It is one of the very relaxing and meditational crafts perfect for a lazy Sunday afternoon. The concept is simple. First, you begin at the center of your piece (canvas, rock, etc). Start with a dot or series of dots and build out your pattern in rings outward using different sized dot and different colors to achieve the design you would like. If it is you first time doing dot art you may wish to using a protractor and marking pencil to draw out a guide template to keep your dots evenly spaced. You can purchase all the tools you need to start doing dot art here:
Just add paint!
2.) Visible Repair Crafts
Does your wardrobe need a refresh? Instead of buying all new clothes, try these fun crafts to upcycle old clothes! Using a speedweve style loom you can add fun designs and patches to existing clothes. Fix the holes in an old pair of jeans using visible repair patches or sewing on patches from clothes that no longer fit. Its eco friendly and fun!
Speedweve Mending Loom – $19.99
3.) Leatherworking
  Up next on must try crafts to do this Spring, Leatherworking! A personal favorite of mine! Little did I know how addicting it would be once a started. The possibilities are endless it seems with leather. It has unique properties that allow it to be stamped (tooled), molded / formed, carved, and cut.
Leather Crafts Ideas
Leather Belts
Add a bit of fashion and upcycle your wardrobe with a new belt. Make a stylish leather belt to pair with an older dress and make it new again! There are lots of cute belt ideas on Pinterest with leather, chain, crystals and more. Our leather cutouts are quite popular for Concho belts! We also carry leather belt blank straps pre-cut to the size you need. 
Belts are not only one of the most simple projects to make, they are also quite versatile in teaching you a range of different techniques for working with leather. You can "Tool" your belt be adding carvings and stamps with a swivel knife and stamp tools. If you aren't into tooling, you can paint leather with acrylic paints, add embellishments like studs and crystals, or do a fun dyeing pattern. You can get some crazy cool results using shaving cream or bubbles!
Leather Jewelry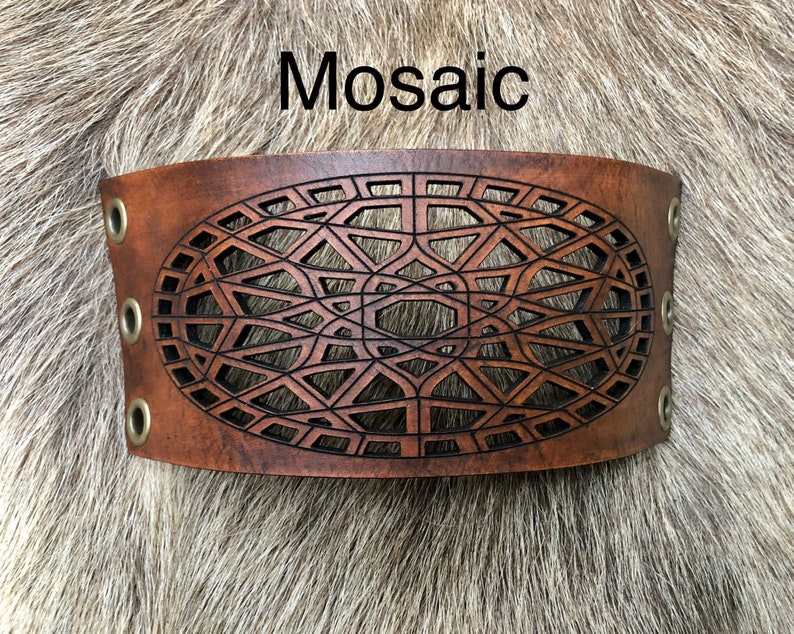 Earrings, pendants, bracelets, and cuffs are greater starter leather projects. They don't require much leather and you can let your creativity run free. Leather lasts for a long time, unlike a lot of the cheaper metal jewelry that will tarnish or cause issues over time. Need a bit of sparkle? Add our crystal rivets to your designs!
Wallets and Handbags
Make your own cute wallets and handbags this season! There's many different styles of bags and wallets, as well as a lot of patterns you can buy to make them! To start you off we are offer a FREE traditional bifold wallet pattern for you!
Other Ideas :
Ready to get started? Check out our leather selection!
Stay tuned for part two of our must try crafts series! And be sure to follow us on Facebook for the latest news, products, and sales!